You do not have any favourites
REHABILITATION AND SHARED OR TEMPORARY PROPERTY, SOLUTIONS FOR YOUNG PEOPLE'S ACCESS TO HOUSING.
28th November 2021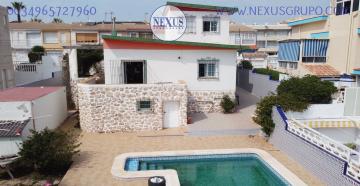 REAL ESTATE, NEXUS GROUP, INFORMA.
In the first session of the Notarial Foundation, Rehabilitation and Shared or Temporary Property Forum.
The Notary Foundation Forum. Issues that matter has held its first session, under the title Youth and Housing Is Property Possible?
Juan Carlos Delrieu highlighted that "of the 25 million existing homes, seven need severe rehabilitation. Rehabilitation must be a central axis of housing policy. We must take into account the aging of the population. With a minimum demographic rate , the demand for new homes will drop in the coming years, so it is not possible to start construction, since the supply would be higher than the demand. The refurbishment, which has European aid, would reduce this bottleneck. " In his opinion, the financial sector "should have a portfolio of sustainable real estate assets with high energy efficiency criteria for young people; with this type of housing, the possibility of default is lower than in other circumstances." He also demanded that the "taxation reduce transmission taxes, which are levied on the final cost.
Elena Ruiz Cebrián opted for "the rehabilitation of old houses and the sustainability of the houses as solutions to the problem of access to property. The offer for young people is new construction, with little affordable prices; or old, with flats of more than forty years, which do not offer the best conditions to live "From the Youth Council, the proposals in housing matters go through an improvement in employment. "There is a change in rent, because it is impossible to face the entry of a mortgage, which can mean three years of full salary. Therefore, the average age of emancipation is around 29 years. The situation of youth is precarious, not because of the pandemic and the crisis, but because for twenty years the cost of living and housing has risen "
Juan Antonio Gómez-Pintado considered that "access to property depends on housing policies that are being short-term so far. Rental housing has been focused, but without providing the tools to create a large stock of properties under that regime. , such as the promotion of private companies for its construction. Most of the social housing or VPO came from the private sector. In other countries they consider a priority to solve the access to property of young people as in Candá, Great Britain, France or Italy, with initiatives such as zero credit, Help to buy, financing. "The legislative overproduction in urban planning is very large, with multiple regional laws and little coordination, which generates shortages. That is why the Housing Law that is being debated is difficult to be applied due to the transfer of powers. This tangle of regulations, for example, makes the price of land more expensive, which can reach 40% of the investment. You have to make more up-to-date home plans and make licensing easier. "
info@nexusgrupo.com
0034 965727960